Fortnightly Electricity Report, through May 26
Tue, 2020-06-02 11:13 —
meacott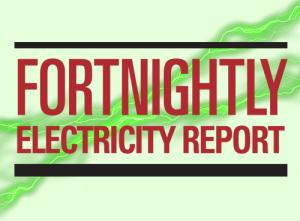 Now, four fortnights — eight weeks — since the country adopted social distancing in the main, the electric industry has been decisively impacted.
Through Tuesday of this week, the period from the first of April has seen a 6.2 percent decrease in electric sales in the continental U.S., year-over-year.
And, during these last eight weeks, coal plants have generated 33.7 percent less.
And, coal plants during the last eight weeks have generated just 15.4 percent of total grid generation. While zero-emission plants generated 45.1 percent.
And, carbon dioxide emissions are down by 19.2 percent. So, carbon intensity during the period of the first of April through the twenty-sixth of May is down to 0.69 pounds of emissions per kilowatt-hour, from 0.79 percent in the same period of 2019.