Real Life Drama Unfolding in Blankenship Trial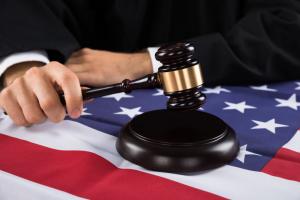 During a recess at the trial of coal baron Don Blankenship, assistant prosecutor Steve Ruby stepped into the area where the onlookers are seated. Almost immediately, he is approached by a thirty-something professional male with unruly blond hair who was basically trying to give him a high-five and a big hug.
"Nail his ass," said the unknown male, referring to defendant Blankenship, who was attempting to be way-too-familiar with Ruby. Those remarks and actions were then followed by other statements and mannerisms that essentially presumed the guilt of the former chief executive of Massey Energy.
Ruby, who is unfailingly polite and a perfect gentleman, kept his composure but took a step back and crossed his arms — as if to physically and symbolically distance himself from the approacher. Indeed, the whole specter raises the question of whether this is a trial about the facts or whether it is a political undertaking, which has long-been the contention of the Blankenship defense.
"I can promise you that our office has never once had a discussion about the political implications of this case — or any other case," Ruby told me, about a week after this encounter. When I told him that I had observed this incident and that I had internalized the way in which he handled it, he was appreciative and understood that his own actions are being closely watched.
Ruby, in fact, is like the little brother you always wished for — a kid, who against the odds has succeeded beyond his family's hopes: At age 12, his own father died in an industrial accident near Nitro, W.V. He would go on to attend Duke University and Washington & Lee's law school, where he finished first in his class. Straight as an arrow, he was probably the kind of adolescent who played little league baseball, only to strike out each time at bat — not unlike my own kid — but who was still loved and admired by all his teammates.
"You know, I'm changing my description of you," I said to him.
"To what," he responded. "To Clark Kent," who is Superman's real life persona, I said. That's just a more refined characterization of what I had given him earlier: a "scholarly nerd."
As we know, Blankenship is alleged to have committed workplace safety violations as well as having filed false information with the U.S. Securities & Exchange Commission . For their part, the government has called several witnesses to say that the company placed profits ahead of safety, all of which led to the April 2010 mine explosion that killed 29 men at the Upper Big Branch site near Beckley, W.V.  
The defense, meanwhile, contends that Blankenship did not micromanage each mine site — that he was involved with running the entire $6 billion enterprise. It maintains that the government's case is politically motivated, pointing out that the U.S. Attorney Booth Goodwin supposedly has gubernatorial aspirations while his father Joe Bob Goodwin is a federal judge who has been a prominent member of the Democratic Party. (His first cousin