Transmission Rate Incentives
Did FERC Jump the Gun?
FERC's move might appear calculated to send a message to the power industry.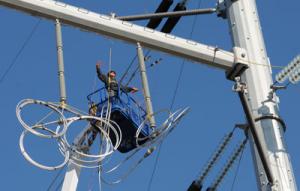 The Federal Energy Regulatory Commission (FERC) in mid-October granted a trimmed-down set of rate incentives for the proposed $1.6 billion RITELine transmission line project. The action prompted a dissenting opinion from Commissioner Philip Moeller, who suggested that the commission perhaps was jumping the gun on making reforms to its Order 679 framework on transmission rate incentives, rather than waiting to act through its pending Notice of Inquiry, in which FERC this year has been taking comments on how best to update and improve the now-five-year-old policy.
"Now is not the time," Moeller wrote, "for this commission to begin retreating from its incentive policy on needed transmission lines."
"Yet I question," he added, "whether we are sending that message."
Moeller was pointing specifically to the commission's decision to trim 50 basis points from the 150 basis-point rate-of-return (ROE) adder that the RITELine developers had proposed to recognize the "risks and challenges" inherent in developing the 420-mile, 765-kV line, which is designed to strengthen the transmission grid in Illinois, Indiana and Ohio, and to permit the integration of approximately 5,000 MW of added renewable wind generation into western PJM. (RITELine Illinois LLC, FERC Docket Nos. ER11-4069, ER11-4070, issued Oct. 14, 2011, 137 FERC ¶61,039.)
In its order, issued Oct. 14, FERC had OK'd various other rate incentives proposed by the developers for the project, including A) 50 basis points for joining a Regional Transmission Organization; B) rate base treatment for 100 percent of construction work in progress (CWIP), C) guaranteed rate recovery in event of a no-fault project abandonment, and D) a hypothetical 45/55 debt-equity capital structure.
But as each of those incentives, taken in turn, would likely mitigate overall project risk, FERC found it appropriate to scale down the primary ROE adder:
"We are reducing the … requested 150-basis-point adder to 100 basis points in consideration of the total package of incentives conditionally granted in this order.
"We find," FERC explained, "that granting 100 basis points is just and reasonable in light of the other incentives that the commission is conditionally granting the RITELine Companies herein, some of which reduce certain financial and regulatory risks that the RITELine Companies cite as support for a 150-basis-point incentive ROE adder."
Many PUCs wonder why transmission line developers should be paid rate incentives for ensuring reliability, when transmission providers are required to do that anyway.
In fact, FERC's move might well appear calculated to send a message to the power industry. The Notice of Inquiry features some 75 questions seeking ideas for policy reform — several of which seem to describe the very same issue involved in the RITELine case:
- QUESTION 27: Are there specific criteria the commission should use in evaluating whether an how to adjust certain incentives to account for the impacts of other incentives?
- QUESTION 28: Do certain incentives sufficiently mitigate the risks and challenges of a transmission project so as to obviate the need for granting other incentives, or warrant adjustment in the level of those incentives?