Playing Leapfrog
Goldman Sachs goes prospecting in New Mexico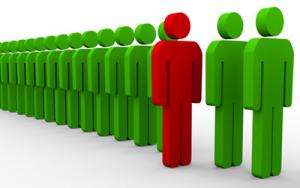 Start with an obscure state agency charged with developing clean energy, looking to make a name. Couple that with laws that create an artificial and insatiable demand for renewables. Now add a dollop of Wall Street money, eager for action. Before you know it, you have a volatile mix.
Welcome to New Mexico, where the state's little-known Renewable Energy Transmission Authority (RETA) apparently has corralled a pool of dollars from Goldman Sachs earmarked for investment in a new electric transmission project known as Power Network New Mexico, LLC — 200-plus miles of 345-kV line to connect 1,500 MW of high-plains wind farms to the lucrative green energy markets of Southern California.
What better way to do business than to get the sovereign behind you in your bid to skirt the rules?
But there's a problem. To deliver the power to its intended recipients, the project first must obtain delivery rights over the existing grid of local utility Public Service Company of New Mexico (PNM), which holds a hammerlock over access to the Four Corners switchyard. That's the electrical intersection that acts as a chokepoint for any generator seeking to export power westward from the scrublands and high plains of West Texas and Eastern New Mexico, to the promised land of Southern California. Goldman Sachs and its financial partners want to complete their project by 2015, but can't go forward without immediate assurance that such rights will be won. Yet no such guarantee is possible. That's because, while the project would provide a wires link to allow wind farms in remote eastern New Mexico to deliver output to the larger grid, it can't succeed unless it can garner transmission rights to carry the wind power across that last mile of congested line to the Four Corners gateway. For that, the project would need help from PNM, which owns the existing high-voltage lines leading from the Albuquerque-Santa Fe load center to the 4C hub. But the utility itself sees no motive to expand those lines – not for reliability (which isn't threatened), nor to meet ratepayer needs (native load isn't growing much).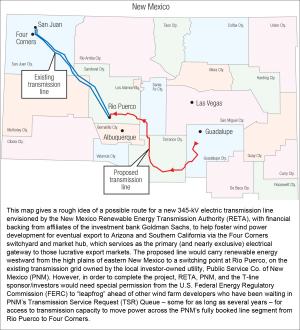 So nothing changes. Meanwhile other would-be wind farm developers have been waiting five years or more to gain access into Four Corners for their own California exports, but to no avail. Yes, PNM might explore ideas to resolve the logjam in its congested transmission service request (TSR) project queue – as it did recently for its separate gen project queue. But the utility says that could take years, given the need for stakeholder engagement.
But money talks. And so RETA, PNM and Goldman Sachs, through its Power Network project arm, have proposed a unique and audacious solution. They asked the Federal Energy Regulatory Commission (FERC) simply to set aside and waive PNM's existing tariff rules for its TSR queue, and instead to let the project leapfrog everyone else and jump to the head of the line. In exchange for its commitment of millions to help foster wind power development in eastern New Mexico, Goldman Sachs would be assured of most-favored-nation status in gaining