Microgrids Encircle Utilities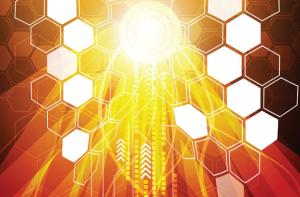 The Marine Corps Air Station near San Diego could be a microcosm of not just how the U.S. military does business but also how corporate America will transact commerce. It is using a microgrid that was developed in part with Raytheon technology, in conjunction with the National Renewable Energy Laboratory. Here, solar panels are creating the electricity that is then harnessed by a battery storage system built by Primus Power.

The end result is a reliable, continuous flow of power, all of which is enabled by onsite generation and battery storage. The concept is increasingly being marketed to entities that have an enclosed campus or those businesses that cannot afford momentary lapses in electric service. Among the majors using such high tech: hospitals, chip makers and the U.S. Department of Defense, which is involved across a whole spectrum of 21st Century clean energy technologies.

"The goal is to make renewable energy smooth and manageable," or not to have interruptions in service when the weather is disagreeable, says Mark Russell, Raytheon's vice president of technology, in a phone interview. "If we can perfect this using a microgrid with energy storage, it could change how the military – and how commercial businesses – operate."

Microgrids are getting the attention of utilities, not as potential threats but as a possible complement to their business models. It's all part of their smart grid layout, which seeks to beef up cyber security, reduce emissions and cut costs.

In a story for the Fortnightly magazine called "Microgrids: Friend or Foe," Peter Asmus of Navigant Consulting says that 80-90 percent of grid failures start at the distribution level. Those outages cost the US economy $336 billion between 2003 and 2012. Microgrids, he adds, are addressing this issue.

Microgrids are working in unison with onsite generation and battery storage. Consider Oncor Electric: It is still sending electrons to its 7.5 million customers throughout Texas using high-voltage transmission lines, but decided to construct its own "microgrid" to bolster reliability and to maximize the use of renewable fuels.

While Oncor's system can operate totally independent of a large central generator, other industrial campuses can choose to stay connected to such utility-provided electricity all the time — or until the lights flicker out. That's when their distributed, or onsite generator, will kick on. The electrons are then sent by microgrids to keep those operations running.

"Batteries are an integral part of a microgrid," says Primus Power Chief Executive Tom Stepien. "Energy storage works together with renewables and an energy management system to keep the lights on if and when the macro grid goes down."

"In microgrids, storage can do triple-duty: provide revenue-generating ancillary services, ensure stable backup power during outages, and reduce or even eliminate diesel generator use," adds Stephen Prince, chief revenue Officer at Younicos.

Residential storage devices are smaller systems that produce 5-10 kilowatts of electricity and often installed in garages. More expensive per kilowatt hours, they are typically used for backup power (instead of generators) or to maximize rooftop solar production. Grid-scale storage is 1 megawatt or more and sold to utilities by storage developers, typically through requests for proposals. They are used for frequency regulation or renewable smoothing – the most prevalent use today.

The aim is to increase scale. To that end, there have been more megawatts stored in the last year around the world than over the last 30 years, says DNV GL. California's mandate to install 1,325 megawatts of energy storage by 2020 will continue to be a catalyst, it adds. And that will come on top of the 200 megawatts that are now online in Hawaii.

Those modern energy technologies are coming – made possible by the collaboration among the public sector, commercial enterprises and academic institutions. As for Raytheon, the Defense Department sets the goals and helps finance the cause while the defense contractor is charged with ensuring performance. Raytheon engineers the concepts and writes the software that "glues it all together."

All of the efforts combined are achieving size and scale, allowing all businesses that cannot afford disruptions in service to take advantage of the progress: Utilities, which are at the core of energy production and delivery, will take part in the ever-changing energy economy because their customers will demand it.

"Utilities now have an opportunity to take a leadership role," says Stan Blazeewicz, with the National Grid. "We can drive economic growth. We can grow our economies on a local basis."

The Defense Department's involvement will certainly entice others to enter this market space, once the scale of such new technologies brings it within commercial reach. To that end, utilities already have a foothold and will assuredly mark their territory as well, and help to reshape the world in which it has lived.

Ken Silverstein is Editor-in-Chief of Public Utilities Fortnightly.

Please join Public Utilities Fortnightly for its conference on disruptive technologies in Scottsdale, Arizona on November 17-18. The issues discussed in this story will be fully fleshed out by qualified experts.
 
Lead art © Can Stock Photo Inc. / kickapoo999