Climate Exposure
Collecting on GHG Damage Claims
While the policyholder was left adrift by Steadfast, the climate change insurance ship certainly hasn't sailed.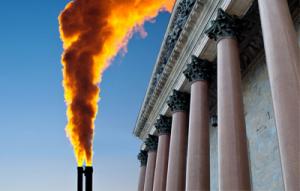 On Sept. 16, 2011, the Supreme Court of Virginia became the highest state court in the country to rule on the issue of insurance coverage for climate-change claims under a general liability policy. In AES Corp. v. Steadfast Ins. Co., the court held that claims for damage resulting from climate change allegedly caused by a policyholder's emissions of greenhouse gases was "reasonably foreseeable" to the policyholder and, therefore, couldn't be considered an "accident" or "occurrence" that triggers coverage under the policyholder's standard-form general liability policies. While the policyholder was left adrift by Steadfast, the climate change insurance ship certainly hasn't sailed.
Climate in the Courts
Climate change litigation began a decade ago as part of a two-pronged strategy by states and others to force federal action to limit greenhouse gas (GHG) emissions. The first prong involved a petition to the U.S. Environmental Protection Agency (EPA) to regulate such emissions from motor vehicles under the Clean Air Act (CAA). EPA denied the petition, finding it didn't have authority to regulate GHG emissions under the CAA. That denial was then challenged in the U.S. Court of Appeals for the D.C. Circuit in Massachusetts v. EPA ( Massachusetts).
Meanwhile, a group of states sued four private utility companies and the Tennessee Valley Authority (TVA) in Connecticut v. American Electric Power Co., Inc. (AEP), alleging that the defendants' emissions of carbon dioxide created a public nuisance by contributing to global warming. The states sought an injunction capping the defendants' emissions and then reducing them 3 percent per year over 10 years. As the Massachusetts attorney general at the time, Michael Blumenthal, said: "[t]hink of this as the tobacco scenario, without the monetary penalties."
The complaint alleged that AES conducted intentional business activities that resulted in the allegedly foreseeable consequences of global warming, i.e., damage to the village.
Other suits followed. In California v. General Motors Corp., for example, California sought monetary damages from six large automakers under federal and state public nuisance laws. In Comer v. Murphy Oil USA, Mississippi residents and property owners sought monetary damages from dozens of oil, coal, chemical, and utility companies for damage from Hurricane Katrina, alleging that defendants' greenhouse gas emissions intensified the storm. In Native Village of Kivalina v. ExxonMobil ( Kivalina), residents of an Alaskan village sought damages to support relocation due to erosion allegedly caused by climate change.
All of these suits were dismissed at the district court level as fundamentally unfit for judicial resolution. The first hurdle plaintiffs encountered was establishing standing to bring their claims in federal court. In the language of the Kivalina district court, plaintiffs merely alleged a "series of events far removed both in space and time from the defendants' alleged discharge of greenhouse gases." This, the court reasoned, was insufficient to establish a key prerequisite for standing – i.e., that the injury alleged was "fairly traceable" to defendants' actions. The court also rejected the claim under the political question