29 Dead: Who Knew?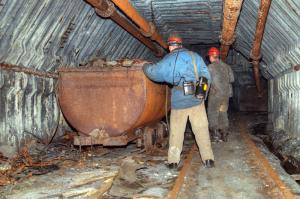 Every day, just after 5 p.m. eastern time, Don Blankenship exits the federal courthouse for the Southern District of West Virginia flanked by four lawyers. And when he does, a parade of cameras is there to catch to his every move. The former chief executive of Massey Energy is now on trial — one of a handful of top chieftains from publicly-held companies to have ever faced a jury.

He's charged with three criminal counts: one count of conspiracy to commit workplace safety violations and two counts securities fraud violations. If convicted, he would be eligible for 30 years in prison. It's all tied to an underground mining explosion in April 2010 when 29 miners got trapped, and died.

No one is criminally charged for their deaths. But the question is whether those in the chain of command — from the mining supervisors to the top corporate suite — could have foreseen the possible risks. Prosecutors charge that the conspiracy leads to Blankenship while Blankenship said that he ran a $6 billion corporation — and that the delegation for such safety was left to the supervisors on site.

"Whether 'the company' knew about a problem is never the right question to ask,"  says Peter Sandman, a risk communications consultant in New York City, in a previous phone interview. "Companies don't know. People know. You always need to ask exactly who knew. And then you need to ask who they told. And then comes the most important question: Does the corporate culture encourage people to push this kind of bad news up the hierarchy, or is the message to keep it to yourself and give the bosses plausible deniability."

Exactly. And the answer, in the case of Massey, differs as to whom is asked these questions: Prosecutors want jurors to believe that absolutely no decisions were made without Blankenship's involvement while the defense has gotten supervisors to admit that their concerns over safety had only been shared with the individuals directly above them.

As early as this week, the prosecution's star witness — Bill Ross, a safety expert personally hired on by Blankenship — will testify about the safety concerns he had. He thoughts are presented in a detailed memo in June 2009, or about 10 months before the deadly accident.

To this end, Blankenship responds less than a month later that this would be a "terrible document to be in discovery," if an accident were to occur. The defense, however, will say that the chief executive is the one who hired Ross and that this comment came shortly after getting the document containing his thoughts — and that the company was on its way to addressing his concerns by April 2010.

Understandably, the only thing that matters right now to Blankenship is winning this criminal case. But clearly, if he had to do it all over again, he would do everything he could on the front end to avoid the type of accident in which those miners died.

And even if a company stresses safety and employee contentment above other concerns such as production, accidents will happen. That's when a company's goodwill will matter: If it has built trust within the communities it operates, the business will likely be given the benefit of doubt. Witness Johnson & Johnson that survived the Tylenol poison scare. Massey, in contrast, lacked such goodwill.

In times of calamity, it is easy to lapse into denial. Companies that have not prepared and have not trained for potential trouble may be ill-fated. Dodging and weaving around the troublespots and the issues surrounding them is exactly the wrong tack.

Massey, of course, is accused of ongoing safety violations. In other cases, it is limited to one event— the BP oil spill in the Gulf of Mexico, for example. No matter the incident, the prescription for remedying the matter is to demonstrate empathy and to communicate those concerns from the top of the organization.

Invariably, companies wrestle with whether to limit their legal liabilities or to respond to the public interest. Working to ensure the safety and well-being of shareholders, neighbors and customers is always the correct response, say crisis managers, noting that those same stakeholders respond in kind to being treated with disregard. The goal of entities in the hot seat is to generate more charity and compassion than legal ramifications. Alpha Natural Resources, which inherited the financial obligations, paid $1.5 million to each surviving family member.

Company leaders will set the tone. Whether it is dishonesty, negligence or stupidity, crisis managers say that the response to public exposure never varies: Be swift and get ahead of the curve. Restore confidence and get back on track. Successful organizations stand by their stakeholders by applying codes of conduct and working to ensure those standards are always maintained.

Because of the mining disaster, Massey is now part of Alpha, which has declared bankruptcy. Blankenship, meanwhile, is on trial and on TV every night.
 
Ken Silverstein is Editor-in-Chief of Public Utilities Fortnightly. Contact him at ksilverstein@fortnightly.com.
Join Ken in Scottsdale, Arizona on November 16-18 to discuss this issue with Bob Murray of Murray Energy, a coal developer. The conference will also delve deeply into the new energy economics and the power of rooftop solar, microgirds and energy storage.
Lead image (c) Can Stock Photo.